3/4" Dummy Axles for 12mm and 15mm Skewers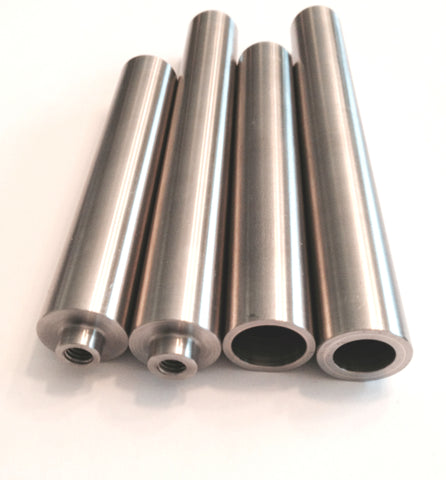 Through Axles
All 3/4"axles are 0.750"(19.05mm) OD. Through axle dummy axles are ST37.4 Drawn Over Mandrel steel. 
Incepi through axle dummy axles are tubular and hollow. The ends are not threaded like other dummy axles. The unique Incepi design works best with Incepi precision 12mm and 15mm adjustable skewers. Framebuilders can also use their choice of 12mm or 15mm through axle/through bolt skewer if they do not have Incepi skewers.  
Incepi through axle dummy axles are toleranced for a close sliding fit on the Incepi adjustable skewer, ensuring that your dropouts are located correctly(ID on 12mm or 15mm axles is 12mm -0.000",+0.003" and 15mm -0.000",+0.003"). Incepi adjustable skewers are recommended for Incepi through axle dummy axles, especially if you are brazing.
Axles with locating features are also available. These simple snap rings give you the precision you require, and they have the advantage of being removable. It is also possible to have multiple ring positions on the same axle, to fit various fixtures. Incepi axles can have locating features wherever you need them, for whatever fixtures you are using. 
If you need a size not shown in the selection menu just send an email. No extra charge for custom axle sizes. Info@incepi.net.