20mm Dummy Axles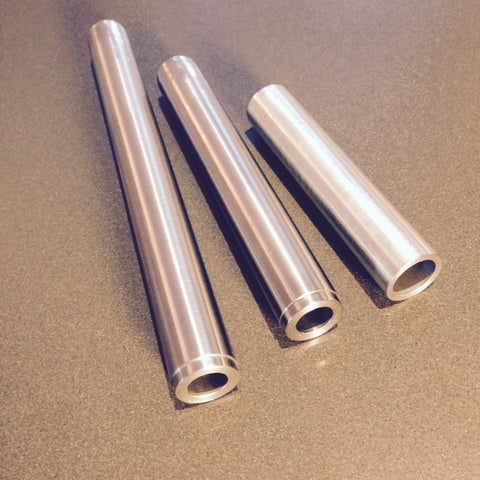 20mm dummy axles
20mm dummy axles are available in the option of your choice. They work with Park Tool and Hope facing tools, or with framebuilding tools using 20mm axles.
Made from carbon steel. The ends are not threaded. Framebuilders can use their choice of 12mm or 15mm through axle/through bolt, depending on the dropout thread system and axle length. You can use the through axle from a hub. Paragon Machine Works supplies through axles for framebuilders as well.
Incepi through axle dummy axles are toleranced for a close sliding fit on the through axle, ensuring that your dropouts are located correctly(ID on 12mm or 15mm is + - 0.003").
Made by Incepi, compatible with Park Tool disc mount facing tools. 20mm OD dummy axles of any length, for 12mm and 15mm through axle skewers. For frames and forks. Instead of buying the Park Tool DT-5UK axle set, or the telescoping Park Tool axles, you can buy individual fixed length axles of any size, including custom lengths. These axles are compatible with any Park Tool disc mount facing tool, including DT-1, DT-1.2, DT-4, DT-4.2, DT-5 and DT-5.2. The axles are also compatible with the HOPE Spot facing tool.
Why choose individual dummy axles? These fixed length dummy axles are solid and precise. They are made from steel, not aluminum. They will not bend or flex. They will not compress when secured into the dropouts. They are always at the correct length. The inside diameters of 12mm and 15mm are precisely toleranced, so the through axle fit is tight, keeping the axle in the correct orientation relative to the frame or fork dropouts. Facing setups require rigidity and precision. These axles provide both. They are the same basic design as the ones used by the professional framebuilders who use Incepi framebuilding tools, except the diameters are 20mm to match Park Tool requirements. 
For the 12mm ID axles, the ends are 3/4"(19.05mm) OD to a depth of 3.5mm, in compliance with Shimano dropout specifications. The 15mm ID axles are 20mm OD along the entire length. 
Any size is available for 12mm and 15mm through axle skewers. 
Available standard sizes are:
Add them to your cart and checkout. Then send Incepi an email describing the sizes you want. Info@incepi.net.
If you wish to buy a set of different sizes, the unit price can be adjusted significantly.