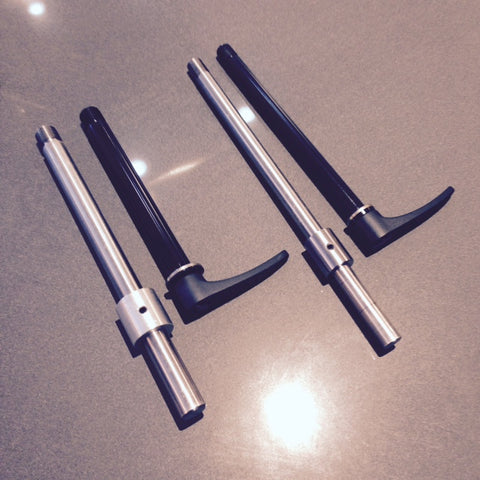 Adjustable Skewers
Universal through axle skewers for Incepi dummy axles. 12mm and 15mm diameter. Thread option of your choice. Adjustable to mimic any skewer length!
The only dummy axle system that correctly duplicates the through axle assembly exactly as it was designed. Skewer threads engage with dropout threads only. Non threaded skewer features engage with non threaded dropout features only. The skewers are precision ground 12mm(+0.000",-0.0005") and 15mm(+0.000",-0.0005") in diameter. They are not 0.003" undersized like the skewers used to holds hubs into frames and forks. This means there is a very close fit between the dropout and the skewer(0.001" to 0.003" on the radius for Paragon Machine Works dropout tolerances). Your dropouts will be aligned and centered!
4140 cold drawn steel. Turned, Gound and Polished rods and steel adjusters can handle high temperatures. The fit between rod and Incepi dummy axle is VERY close(0.0005" to 0.001" on the radius). There is almost no discernible movement.  
12mm skewers are threaded M12x1.0 at one end and M12x1.5 at the other. Good for both Syntace dropouts Paragon Machine Works dropouts. No need to buy two skewers.
15mm Skewers are threaded M15x1.5.
If you require another thread pitch please request by email. Info@Incepi.net.
$35 price is for one skewer and collar.
The photo shows Incepi 12mm and 15mm framebuilding skewers next to DT Swiss 12mm and 15mm skewers.